on
September 2, 2013
at
12:01 am
The book "The Castways," by Rob Vollmar and Pablo Callejo has a lot of things that I stray from in a graphic novel. It's a period piece, it's for kids, and they color the pages without actually taking advantage of color.
Seriously I get that sometimes a page just needs a little extra something, but that "something" shouldn't be a wash of color. Color the comic or don't. If I wanted a wash I'd take a shower.
But what can I say? Kids running away from home and jumping on trains? Sign me up!
Rob and Pablo have worked together on a lot of books together, probably most notably the Blues Manseries. Rob is one of the many comic writers with a love of 1920s and 30s Black culture, and Pablo pulls of the art well.
But if I have to be honest? I had to put down Castaways a number of times. The beginning was strong but ultimately the story looses its momentum somewhere around the middle. Pablo draws heavily from the Robert Crumb School of Cartooning, which I have always found simultaneously well done and draining: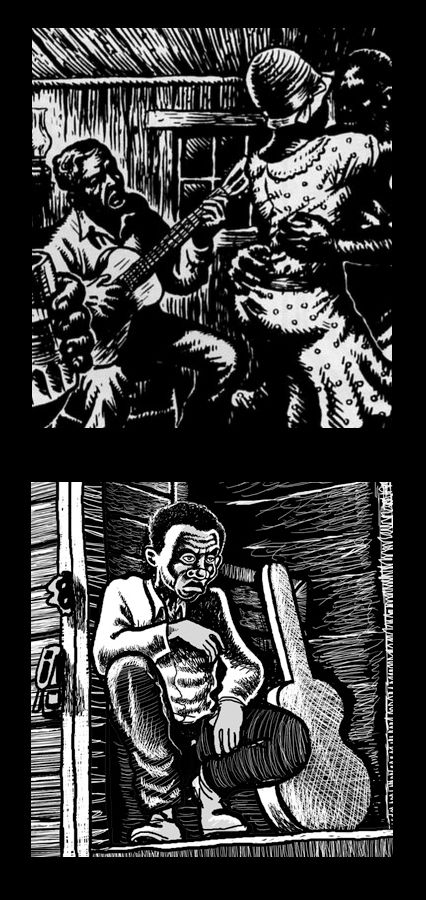 A lot of Pablo's characters resemble each other, not to the level of some comics where you can't recognize one from the other? but enough to strain the eyeballs.
What can I say? It's a coming of age story where a young boy learns from a kindly stranger that running away from your problems is never the only choice. Sound familiar, right?
Funny thing, I kept waiting for the big reveal where it turns out the boy is actually a girl. Look at this face!
This is Rob and Pablo's first graphic novel, and it shows. Not that I can say anything, I'm still writing my first graphic novel and it's fuggin killing me!
Oddly one of the most interesting points was the exploration of Hobo Culture. I had no idea that there was a different between Drifters, Bums, and Hobos but there is. They've got a code of conduct and everything.
And museums!
It seems like these days there are two kinds of Hobo (or "Bo"), there are the old-timer types that hold on to the traditions of original hobos. And then there's the latest generation, who seem to be completely out of their minds: