on
October 27, 2014
at
12:01 am
Last Sunday one of my english teachers from High School was kind enough to take Alex and me to see David Sedaris.  Sedaris has been one of my favorite writers since I was introduced to him at 15. When I realized there would be a chance to have something signed I leaped at the opportunity.
However get this, if you ever have the opportunity to see him live he does book signing before and after the show.  So chances are you'll get more face time with him if you show up for that first line!
There was plenty of time to talk before the signing and I learned that Ms Gordon had no idea what an orc was, so in the spirit of education I drew her one.  After waiting an hour and and 20 minutes I got to meet him up close and of course I was a nervous wreck barely able to speak through the gritted teeth of my plastered grin.  He asked me about my comics and signed this on the page opposite my drawing: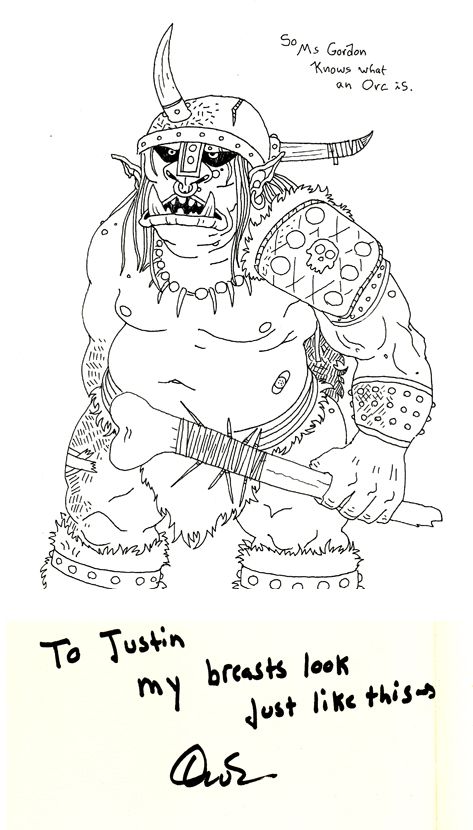 David Sedaris is a grand-master writer and satirist capable of devastating his readers (in the best way) with biting sarcasm and wit.  Frankly I was shocked at how friendly he was in person.  He was nonjudgemental and sincere and my fondness for him has skyrocketed.
I've had the pleasure of meeting a handful of famous people and not all of them knew exactly what to make of me and my frozen face of fear and delight.  Most of them rightly said "nice to meet you" and waved me along but David Sedaris actually takes time to talk to each person in line.
HE'S GREAT THE END