on
June 9, 2014
at
12:01 am
Last night my partner and I went out to see "Belle."  Not familiar?  Here's the preview.
This movie is a big deal.  Here's why:
1) The main character is Black.
2) The main character is a woman.
3) The movie was written by a Black woman.
4) The movie was directed by a Black woman.
5) The movie addresses Afrikan enslavement in world history.
6) The movie addresses sexism in world history.
7) Some people have actually heard of this movie.
The real tragedy is that in spite of this NEVER BEFORE SEEN LIST IN THE HISTORY OF CINEMA this movie is going to get drowned out by blockbusters, pooh-poohed by close-minded blabbermouths, and unsung by young politically minded folk.  Nobody is freaking out about this movie the way I want them to and it blows my mind with an intensity I haven't felt since "Princess and The Frog."
In addition to all these amazing selling points, at no point through out the movie does the main character get raped, stripped, struck, or killed.  In other words, none of the violent chauvinist hallmarks that producers love to carelessly throw in movies are present.
This movie is basically a miracle.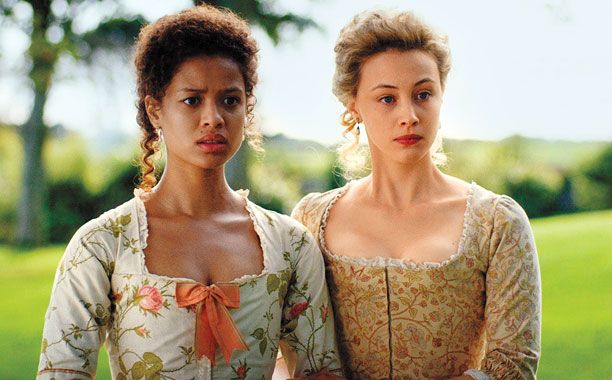 I have to pepper my sentiment with my own reaction to the movie and I will say this, it's not a story that grabs you by the balls.  "Belle" is a very Jane Austinesque story.  There's huffy British dialog, a love triangle, and big poofy dresses.   In many ways Belle attempts to be just like the many other period romance flicks, and in a way that's whats really cool about it.  The sociopolitical aspects of the movie aren't scrawled across the wall, but rather sewed into the embroidery.  Practically every scene serves to illustrate the oppression that Dido faces each day, but it doesn't often reach a boiling point.
In other words this would be "a perfectly splendid"  film to show someone who needs a gentle introduction to the history/reality of racism in world history.
But even if you don't require that kind of hand holding, stop what you're doing and make plans to see this movie, in the very least to support the notion that we're ready for diversity in the stories we watch in theaters.
VOTE NOW.  WITH CASH!