on
March 16, 2015
at
12:01 am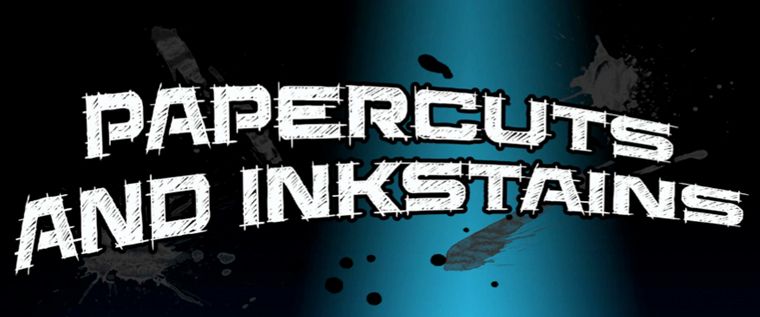 Papercuts and Ink Stains Issue #1 is a collection of three short works written by Rob Jones with artists Nick Gonzo, Kevin Pospisil, and Mike Smith respectively. You can read Jone's reviews of comics here! As far as I know this was Jones' first foray into actually writing his own fictional work.
This is my first time reviewing a book like this (vs a webcomic) so it's going to be a little different. But I'm going to preface it by saying that I admire Jones. I hear from a lot of people who can write but can't draw, and plenty more who can draw but can't write. To which I say find an artist! Find a writer! These comics are proof that with the right people on board you can have your first book printed a lot sooner than you think!
In the tradition of keeping my reviews fairly short I'll break it down into the three stories and say what was good and what could use improvement for each one.
"NO" with Art from Nick Gonzo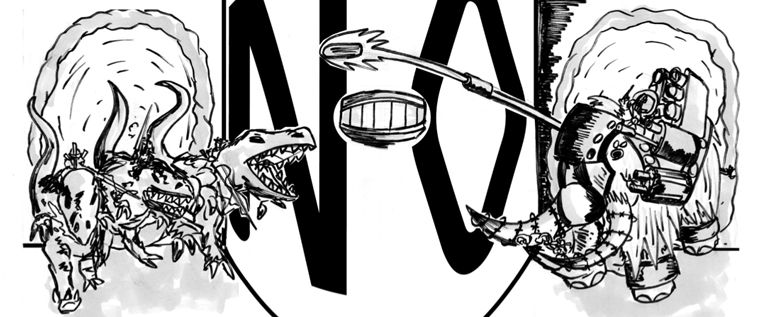 "NO" is about a room designated for military conflict where, for a set amount of time, two armies can duke it out. It revolves around the person who works behind the controls and ultimately gets to clean up.
Of the three comics this was my favorite concept. On the surface it's a fun take of the "I have a shit job" comic you often see, but behind that I found a brilliant satire of armed conflict and the various military industrial complexes that have been running most countries like clockwork since the 1800s. I'd love to see this story explored further.
The art of "NO" is rough. To be frank it looks out of place when compared with the rest of the book. The imagery has the quality and readability of quick thumbnail sketches. That said? Bless Nick Gonzo for taking a crack at it. If Rob Jones had approached me to illustrate this story I would have pooped my pants and turned it down, this is a supremely difficult comic/concept to illustrate.
"By 'Eck on Earth" with art from Kevin Pospisil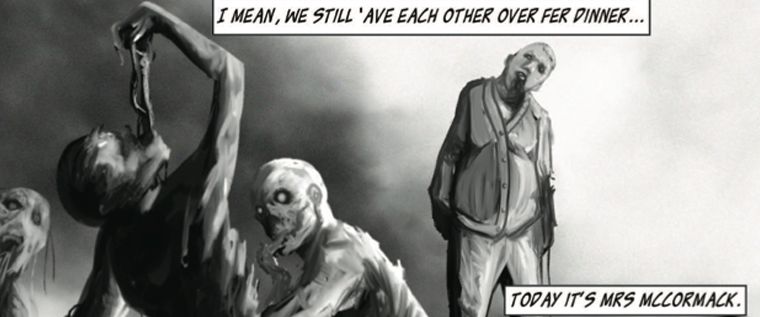 "By 'Eck on Earth" is a comic about zombies. Full disclosure? I've been pretty much done with zombies for the last nine years following an obsession that culminated in the creation of my very own (crappy) zombie movie. So for me personally "By 'Eck on Earth" was the least interesting comic of the three. But that's only because of my history with zombies. I also feel that there's no room for improvement – the entire comic serves to deliver a punchline.
What makes this comic is the artwork. Kevin Pospisil's art elevates this comic from a so-so concept to something that's really fun to look at. His understanding of black and white, movement, and composition hits the nail on the head with every page.
"The Profits of Doom" with art from Mike Smith
This is a story following the exploits of would-be cultists that suck at life. Of the three comics this is probably the most well crafted simply because of the balance of writing and artwork. The dialog is well paced, fun, and interesting and so are the visuals! By the time I was done reading it I had a big grin on my face.
The only thing I can say in terms of room for improvement here is that drawing cloaked faceless figures is an easy way out of avoiding facial expressions. It would have been nice to see what some of the cultists actually looked like, especially given how much character is in the writing. But this is a very minor concern since I didn't feel that Smith's choices detracted from the comic – in fact plenty of character is delivered through the posing and hand gestures in spite of the facelessness so there you go!
Overall
This is a really strong start for Rob Jones. It's clear he has some original ideas and the means to see them through. I'd like to see four to nine more books and then I'd say "okay lets go bigger!" Overall I'd say the writing plays it safe with this first issue but I don't blame Jones for that. There's always room for improvement but the taste of Papercuts and Ink Stains is a nice blend of humor and experimentation.